Smart Travel Habits - Smart Mobility
A Mobility-as-a-Service (MaaS) platform that uses gentle nudges towards more climate-friendly travel habits

Smart Travel Habits - A GENTLE PUSH TOWARDS MORE CLIMATE FRIENDLY TRAVEL HABITS
Many people want to start traveling more climate friendly but have difficulty taking the first step. That's why we created the digital platform Smart Travel Habits - which provides a friendly and personal push on the way. With smart and timely nudges, the platform helps create new behaviors and habits through targeted messages for each target group.
Smart Travel Habits utilizes the so-called fresh-start effect and uses the potential for behavioral change that arises at new beginnings. The platform provides, for example, newly relocated or newly hired people with individualized information based on their unique circumstances.
A message is sent via SMS and contains a unique link with information and the recipient is nudged in several ways towards more climate friendly travel habits. Finally, the entire process is measured and analyzed so that you can easily evaluate your sustainability investment.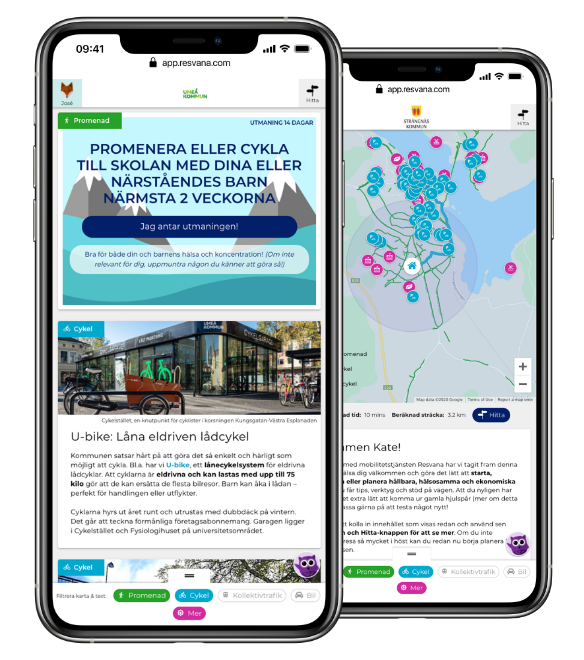 Product Brochure and Video
Watch the video about Resvana and fill in the form below to have a product brochure sent to you.
Smart Travel Habits users are
twice as positive to switch to walking
76 % more positive to switch to cycling
62% more positive to switch to electric, gas or hybrid cars, car-pooling or co-driving
33% of the users state that they have changed to a more climate friendly mode of transport due to Smart Travel Habits
Are you curious to learn how nudging can help your organisation? Select the date and time in the calendar to book an introductory meeting with one of our nudging experts.